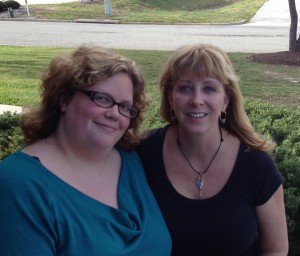 Ramona Rice is a massage therapist, mom, wife, sister, daughter and employer. She also happens to be a University of Virginia grad, which we'll just have to forgive her for. (lol, Ramona!) That slight lapse in judgement aside, this woman is SO WOW Worthy!! Take a minute to get to know her. If you live anywhere close to Newport News, be sure to schedule a massage at Destress Express, the WOW! Worthy business she owns. Their services are phenomenal and I'm a huge fan!
What ONE THING do you think gives a woman the "WOW" factor?
Confidence- all about attitude- you can do anything you want with the right attitude.
What three female celebrities do you think we could learn from – and what ONE sentence lesson do they teach us?
Angelina Jolie – she owns what she does without apologizing
Ellen DeGeneres – proves you can dance and be happy while you work
Betty White – working your strengths is the best advice
What is the most important lesson you learned from YOUR Mom?
Lynn: Women can be independent and strong – be a trailblazer not a path follower
Ramona: Never let fear get in the way of opportunity.
If women could instantly emulate ONE trait, habit or skill set that YOU possess, which trait, habit or skill set should it be?
How to start a conversation – in our business we love making our clients feel welcome and invited – often it is simply saying hello to a stranger. You will probably make their day
What ONE success tip or strategy can you leave us with?
Create great partnerships with other small businesses and local charities! We have grown so much largely through word of mouth because of our business connections. And you need to be involved within your community, so that means maybe giving away a product for free so a charity can do a raffle or volunteering. Make sure it is something you're passionate about because that generosity will come back to you tenfold.
DeStress Express
www.DestressExpress.com